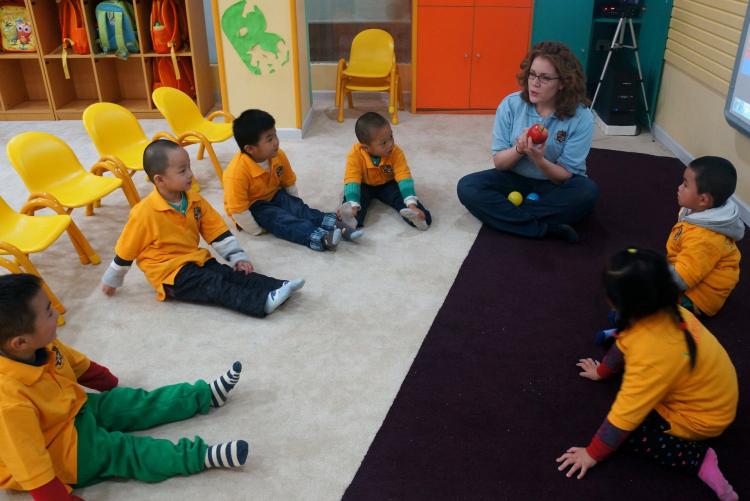 In today's fiercely competitive and rapidly changing world, we're all looking for a leg up. Learning another language can be your leg up! GPN offers a highly effective language learning platform for English, Chinese, and French.
Who can be trained?
Everyone can learn a new language, from toddlers to senior citizens, beginners to advanced learners. There's an appropriate language training course for everyone at GPN.
What training courses do we offer?
We offer various training programs at GPN, geared toward our students' ages and proficiency levels.
Regular Training Programs (long-period training):
Newbie Classes (NC), offered to kids once a week, which can take place on weekdays or weekend for 12 months, 1 or 2 hours for each session (depending on the size of the class).
Language Proficiency Classes (LPC) are given for different levels, 8 in total: Low Beginner, Beginner, High Beginner, Low Intermediate, Intermediate, High Intermediate, Pre-Advanced, and Advanced. Each level lasts for 3 months, attends classes 4 times a week with each session lasting 1 and a half hours.
For further information, go to GPN curriculum overview , or feel free to contact us .
Specialized Training Programs (short-term training):
Socio-Business Language Classes (SBLC) for 3 months, 4 times a week, 1 hour 30 minutes per session. SBLC is for those who have completed GPN's advanced level or have passed its test.
Professional Language & Communication Training (PLCT) for 3 months, 4 times a week, 1 hour and 30 minutes per session. Like SBLC, PLCT is for those who have completed GPN's advanced level or have passed its test.
VIP Classes (VIPC) is tailored to the learner's needs and specifications. In other words, time, location, class topics, and objectives are suggested by the learner.
For further information, go to GPN curriculum overview , or feel free to contact us .
Prior to enrollment, each learner takes a language proficiency test and is requested to register according to the test's result. For the specialized training programs, students are also required to take the entrance test. We use the test results and the student's specific requirements to design an appropriate course. After course completion and the required level tests, GPN will award students a Language Proficiency Certification.
What certificates are offered after completing training course at GPN?
The "Advanced Level Certificate" is awarded to the one, who has completed all levels of LPC; "Socio-Business Language Certificate" is offered for SBLC completion; and "Professional Language & Communication Training Certificate" is for PLCT participants. These certificates are awarded based on the language studied (e.g. Advanced Level Certificate in English).
What approach and materials do we use?
At GPN, we focus on communicative language teaching, or CLT. As the name suggests, this method of language learning emphasizes communication and interaction in the target language. We immerse our students in the target language in order to achieve optimum proficiency. Our experienced teachers provide a genuine English/Chinese/French-speaking classroom environment for students to learn from.
At GPN, we compile and provide our own language learning materials. Our language training materials don't come directly from a textbook, but rather are authentic and, more notably, engaging. We select genuinely riveting materials from reality shows, famous publications, podcasts, movies, and documentaries that focus on engaging topics.
That sounds great! Where are the classes held?
GPN offers on-site training and virtual (online) training. With on-site training, students will meet with one of our teachers at our training center for a scheduled session. Virtual training, however, is completed online. The students participate in the lesson via their computers and interact with their teachers and peers virtually.
Does GPN offer any test preparation courses?
Yes! As a matter of fact, we do offer test preparation for the following language proficiency tests:
For English
IELTS (International English Language Testing System)
TOEFL (Test of English as a Foreign Language)
TOEIC (Test of English for International Communication)
For Chinese
HSK (Basic), HSK (Elementary-Intermediate), HSK (Advanced), HSK (for Young Learners), HSK (for Business)
For French
DILF (Diplôme initial de langue française)
DELF (Diplôme d'études en langue française)
DALF (Diplôme approfondi de langue française)
How much does a language training course at GPN cost?
Our language training fee depends on several factors, including the type of training selected, the frequency of courses, and the duration of training. If you have any questions, or wish to consult us about your specific language requirements, please come to our center or feel free to contact us .
Does GPN provide any additional services or activities free of charge?
Yes, we do! As a special bonus, GPN gives
extra-support for language learning and research. The organization also offers extra-curricular activities to language learners and clients in general to help them achieve their goals quickly and efficiently, for no additional costs.