GPN CARE
GPN's Core Action
for the Reinforcement of your Education
"Not all of us can do great things, but we can do small things with great love."
The 'Mother Teresa' Corner
All over the world, human beings are hungry for greatness and thirsty for power. "Knowledge is power," as the saying goes, hence GPN's choice of education as its core service.
Education covers anything that is conducive to sharing or reception of systematic instruction and proficiency. Language skills, communication excellence, and management expertise are the main drives of GPN's contribution to the empowerment of its clients and followers thorough both paid services and free-of-charge assistance.
Being an education consulting company, we, at GPN, try hard to build an environment where your knowledge-induced "power" is stimulated, enriched and entertained. This is the ultimate aim of the direct and indirect assistance we call GPN's Core Action for the Reinforcement of your Education (GPN CARE.) Also known as "The 'Mother Teresa' Corner," it is given as much importance as our paid services. Mother Teresa once said, "Not all of us can do great things, but we can do small things with great love." In that spirit, the GPN CARE is here with a big heart to contribute in a small but significant way to the gratification of your educational thirst.
The GPN CARE is herein provided in a package (named The 'Mother Teresa' Corner) with ten parts, which will be referred as:
1. Wisdom Corner: Inspirational Quotes & Food for Thought
2. Academic Thoughts & Experience: In the words of GPN-ers
3. Language Corner: Be your own 'Linguist' and a polyglot
4. Communication Tips: Hone Your Communication Skills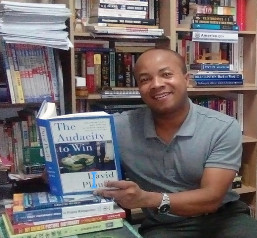 5. Management Recommendations: Learn from others
6. Instructional or Inspirational Stories & News:
Discover our Globe and its Citizens
7. Divertissement: Have Some Fun!!!
8. 'GPN' Clubs, Mentorship & Networking: Language?
Use it or Lose it
9. 'GPN' Biz Connections: Discount or Commission? Up to You!
10. What's Up at GPN?
Join Our
Book Club!!
Writer: Dr. Jules H. DANARSON
Editors: Andy WADE, Ethan ROBERTSON, Raphaëlle VANDERMERSCH